When my dad died, I realized everyone wants you to forget you're gonna die. Because if they convince you you're not gonna die you waste your time doing what they want you to do.

Mike Posner, Singer
December 2018 I decided I'd had enough. I wasn't entirely sure what it was I'd had enough of, but I figured if I changed everything in my life that would take care of whatever was bothering me. Truthfully, though… I think I was always destined for alternative living. When I was young the thought of living in a treehouse or tiny home intrigued me a great deal. As I grew, so did the trend of people living in vehicles. This was for of vagabond-dirtbag living was more recently re-enforced by films such as Free Solo and Safety Third, which showcase incredible people who have made great sacrifices to do what they love.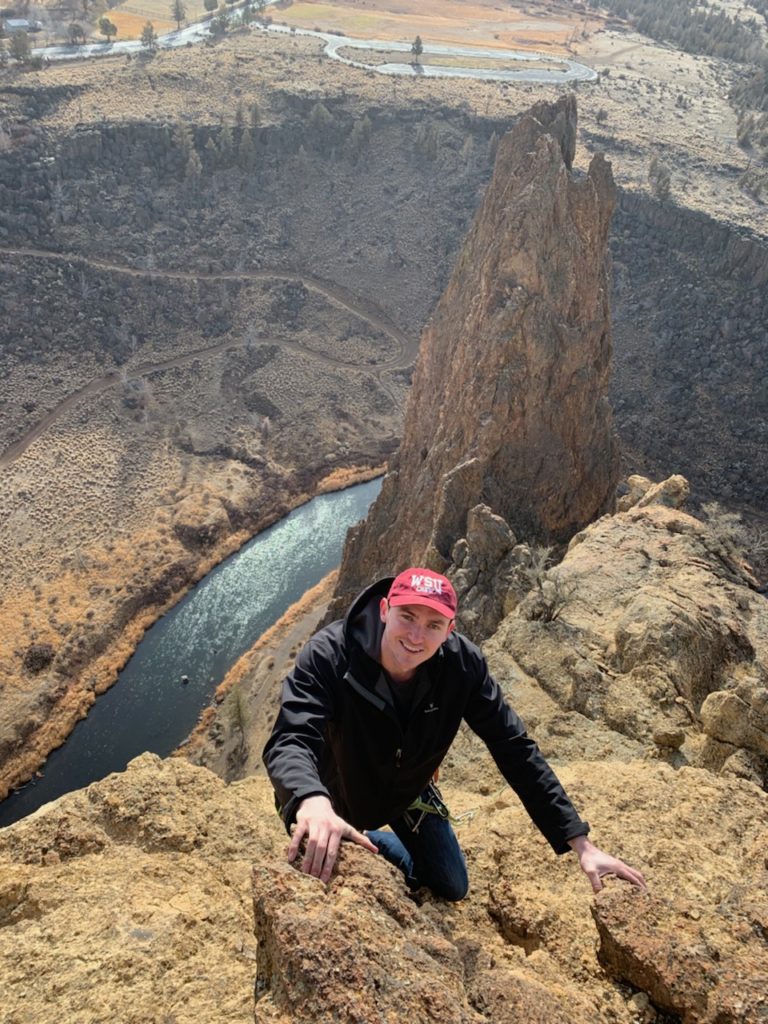 So, armed with a dream, a 2008 Honda CRV, and an assortment of climbing equipment I headed south from Vancouver, Washington. The first stop, slightly out of the way, was Smith Rock State Park — an Oregon Climbers paradise. I was trying to make it to California by nightfall, and I had my cat, Ivy, in the car. We did an easy multi-pitch route known as Voyage of the Cowdog. Due to some rope management issues, it took 5(!) hours, then I was on my way to California. I spent the holidays at home with family and took off for Yosemite on January 4th.
---
For those who have never been to Yosemite Valley, this national park is considered by many to be one of the greatest natural monuments in the nation, if not the world. Pictures don't do the scale of the granite cliffs justice; driving in the valley granite fills your vision unless you crane your neck, taking your attention completely off the road. The sight is so awestriking that you can see people pulled over to take pictures everywhere on the road in, from the rim of the valley right down to the meadow.
[Yosemite is] not just a great valley, but a shrine to human foresight, the strength of granite, the power of glaciers, the persistence of life, and the tranquility of the High Sierra.

National Parks Service
---
A friend of mine, Lurana, was traveling north from Joshua Tree National Park, so my journey didn't start totally alone. She and I overlapped in Yosemite for two days. The first day, we worked on some easy boulder problems, and the second day we hiked Eagle Peak.

The hike was alarmingly hard, for me anyway. During the final mile back to Camp 4 my legs were numb, I had a painful muscle tear on my upper back, and I was seriously doubting my general fitness. Lurana was still fine and energetic when I flopped down on the top of the picnic table at my campsite.
She elected to make the ~13-hour drive back to Vancouver immediately after our eight-hour hike. This seemed like a terrible idea to my tired & achy self, but it turned out to be a surprisingly wise choice…
I woke up the next day unable to move. Seriously. I was so sore and stiff that it took me 30 minutes to get up to pee. Despite warm daytime weather my whole visit, by the time I had eaten breakfast, the temperature had dropped to a freezing 28° F. Snow was starting to fall, and I knew I needed to leave and head for warmer weather. My options were to head east to Bishop and the Owens River Gorge or head back west towards the Bay Area before heading south to Joshua Tree. Thinking Bishop wouldn't be too much warmer, I went west.
But I wasn't thinking. Because, of course, Yosemite is a valley. And if there's a little snow in the valley, as you climb out of it the snowfall becomes much more serious and significant. But my car has all weather tires and all-wheel drive, I thought to myself, It'll be fine. Besides, I have experience driving in the snow and I have nowhere to be. If it gets too slippery I'll just pull over and spend the night.
And for all that stupid-thinking, everything turned out okay. My car did slip. Right on a hill where everyone else's car slipped. It did get hit by another car, but there was no damage. After being informed by a CalTrans worker that I could not, in fact, sleep on the side of Highway 140, I realized I was literally right next to the Rush Creek Lodge. After a little bit of snow shoveling and slippery U-turn, I was in the hotel bar drinking a beer.
I still can't get over how lucky everything turned out that day.